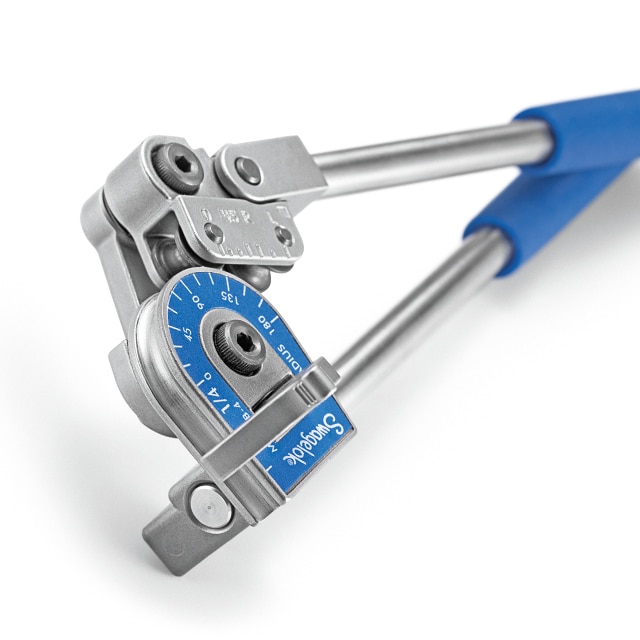 Next Class: Tube Bending Essentials
Date: November 6, 2019
Time: 8:00 AM - 12:00 PM
Location: Swagelok Austin
Next Class: Tube Bending Essentials
Date: November 13, 2019
Time: 8:00 AM - 12:00 PM
Location: Corpus Christi, Embassy Suites
Our Swagelok Tube Bending Essentials course offers foundational knowledge needed to introduce bent tubing to your system to eliminate connections and leak points found in traditional welded pipe systems. Upon course completion, students will be able to properly cut and deburr tubing, explain the purpose of various marks used in tube bending, bend tubing with the correct bend angle made in the correct location, identify potential bend defects, and properly assemble a box comprised of various lengths of tubing, bent according to need.
Each student will receive a course Certificate of Completion signed by our Swagelok Certified Trainer, in addition to several valuable take-aways from the course.
Course Objectives
Upon completion of this course, you should be able to:
Explain the basic concepts of the theory and practice of tube bending
Practice the measure-bend method through a variety of

hands-on exercises

using the Swagelok hand tube bender
Demonstrate essential tube bending concepts necessary to complete quality 45, 90, 180 degree and offset bends
Practical
Students will start with the demo box in figure. 1 and learn how to make the necessary bends to complete demo shown in figure. 2:

To find out more information call us at 361-289-2148 or email us at info@corpuschristi.swagelok.com.